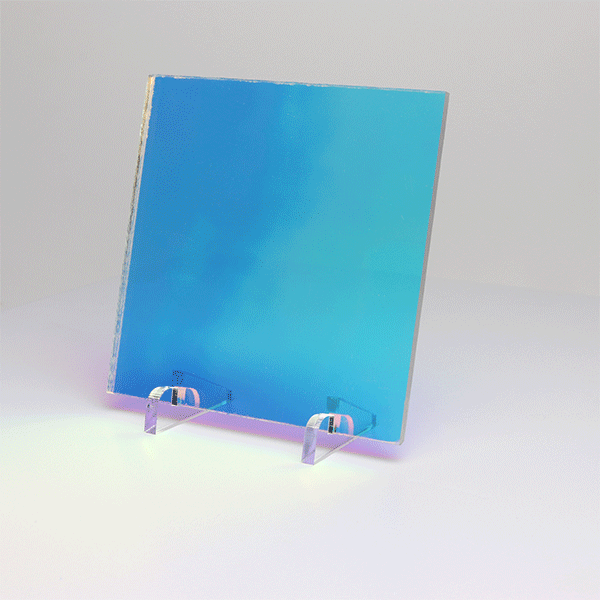 Iridescent Acrylic Panels, available in 10 sizes.
The material is clear with iridescent foil. Also suitable for lasering.
Light can be seen through, giving various coloured effects with every turn.
Both sides of this material also have a gloss finish.
All our panels are sent with protective film on both sides.
Also, the film helps to prevent scratching during transit.
Finally, acrylic panels are made from high quality 3mm acrylic.
Finish
As of March/April, we will only be offering laser cut panels.
We have found this to be the most efficient way to complete orders and keeps the quality of the items consistent.
Also, this allows us to keep our prices the same despite price increases across the industry.
Prices will still include VAT as previous.
Please contact us if you have any concerns about the finish of our products.
All of our Acrylic Panels are available in 10 sizes:
A5 (148mm x 210mm)
A4 (210mm x 297mm)
A3 (297mm x 420mm)
A1 (594mm x 841mm)
A2 (420mm x 594mm)
900mm x 600mm
200mm x 200mm
300mm x 300mm
400mm x 400mm
600mm x 400mm
In addition to the Iridescent Acrylic Panels, we have other acrylic panels in a variety of colours.
Such as the Solids, Pastels and Highlights.
Also, we have Metallic and Fleck acrylic in our specialty range.
Finally, we have 60 colours of acrylic in a variety of finishes.
Need a specific size panel?
Email us at info@perspex-panels.co.uk
At Perspex Panels, we offer a cut to size Perspex service. We can cut to your specific measurements, if you do not see the size you require on our website.
Finally, Perspex Panels are a Perspex Approved Stockist, meaning our Acrylic Sheets are always Perspex branded. No alternatives, so you will always receive high quality material from us.
Perspex Panels offer over 60 colours of acrylic in a variety of finishes.
Including Gloss, Satin, Frosted, Edge-Lit and more.
See our Colour Swatches page for more information here.