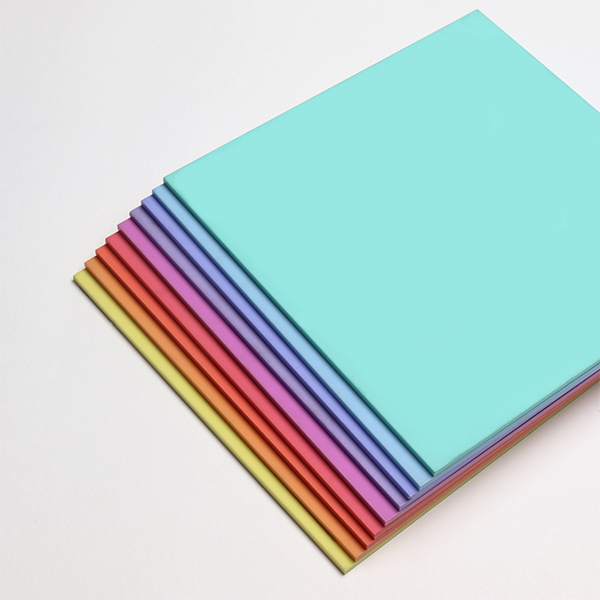 Acrylic for Laser Cutting
Understanding the best Acrylic for Laser Cutting ensures that the right materials are being used for your project. This blog will explain the best materials to use and how they can help achieve your goals.
---
Cast Acrylic is the most suitable acrylic for laser cutting, as the properties of the material make it strong enough to withstand the laser cutter. This material is also suitable for laser engraving, again due to its strength, giving clean engraved designs into the material.
We offer a wide range of Cast Acrylic materials in varying thicknesses. Shop classic Clear Perspex Cast as well as eight Perspex Cast Colour ranges. Ranges include Matte Naturals, Sweet Pastels, Highlights, Frosted and much more! Panels are available in standard paper and square sizes, but we can also cut to any size you need – Contact our team for a quote: [email protected]
Extruded Acrylic can also be lasered, but is not suitable for engraving as the material is much softer. This makes the engraving lines wooly and unclean, not giving the same affect as Cast.
As standard we only offer Clear Perspex Extruded in 2mm and 3mm thicknesses. Yet, we can source Black and White if needed. Panels are available in standard paper and square sizes, but we can also cut to any size you need, contact our team for more information: [email protected]
Cast vs Extruded Acrylic
Cast Acrylic
Tolerance of +/- 10%
Stronger material
Has branded protective film
Suitable for laser cutting, engraving and painting
Extruded Acrylic
Consistent thickness
Softer material
Has clear/blue protective film
Suitable for UV printing, vinyl and light painting
Post-Lasering Processes
Once pieces have been lasered, there are some further processes that can also affect the material.
Gluing
Gluing lasered pieces together can create some really interesting designs. Combining different materials and shapes can help your project take shape and achieve your desired goal. On the other hand, gluing can cause stress crazing through the edges of the acrylic. Even non-solvent based glues can tarnish the edge of the material, which can be extremely obvious especially on clear materials. Extra care should be taken when gluing pieces together, or avoid the edges all together and glue to the surface. To make this process easier, self-adhesive tape can be added before lasering.
Painting
Adding paint to acrylic can open up a wide range of opportunities for design. If a specific colour is required for the project, painting is a great way to achieve your goal. Despite this, there are some precautions to take before picking up the brush. Chemical based paints can affect the edges of the material, causing crazing, which can be very obvious especially on clear materials. When painting, extra care should be taken to not go over on to the edges. Adding some masking tape to the edges can help to prevent paint attacking the acrylic.
Cleaning
The final step in any project would be cleaning down your creation. During the production process there can be a lot of dust, swarf or even fingerprints (if protective film has been removed) on the material which need to be removed. Using harsh chemicals or bleach with tarnish the edges of the material, causing stress crazing. Which can be extremely obvious especially on clear materials. So, to clean lasered acrylic panels, a soft clean cloth and warm soapy water should be used.
If you have any questions or concerns regarding anything we have touched on here, please do not hesitate to contact our team: [email protected]
---
Perspex Sheets
Perspex Panels are an online, Perspex Sheets Hull Stockist. We provide cut to size Perspex service, providing customers with high quality Perspex branded acrylic. We aim to provide our customers with an informative, reliable service. If you have any questions about our materials, or require a specific size, please do not hesitate to email our team. Simply message or email our team and request a quote today.
Also, at Perspex Panels, we stock acrylic that is perfect for a wide array of products. Including awards, charms, display items, point of sale, jewellery stands, signage and many more. In addition, our acrylic is suitable for lasering and engraving. In addition, if you want more information about acrylic uses, cleaning and care, please visit our FAQ page.
Finally, follow our Facebook and Instagram for the latest updates.